16 August 2022, Sultan Sharif Ali Islamic University (UNISSA) has successfully published 28 books in various fields written by several writers launched in conjunction with UNISSA's 12th Hafl Al-Takharruj Festival this year. The launch was completed by His Royal Highness the Young Prince of Pengiran (Dr) Haji Al-Muhtadee Billah Ibni Kebawah His Royal Highness the Sultan Haji Hassanal Bolkiah Mu'izzaddin Waddaulah, Senior Minister in the Prime Minister's Department, Pro Chancellor Sultan Sharif Ali Islamic University and subsequently agreed to launch the Open Journal System (OJS) for six (6) UNISSA journals.
A total of twelve (12) books in Malay, eight (8) in English and four (4) in Arabic. In addition, a total of six (6) journals have been published.
In the internationalization effort, UNISSA has implemented a number of collaborations in publishing, namely joint publishing with overseas university publishers including IIUM Press, Malaysia; UUM Press, Malaysia; USIM Press, Malaysia and Airlangga University Press, Indonesia. At this year's launch, four (4) book titles were co-published with IIUM Press, six (6) book titles were co-published with UUM Press, and one (1) book title was co-published with USIM Press. Meanwhile, one (1) book title is a joint publication with Airlangga University Press, Indonesia.
The books published by UNISSA Press this year cover various fields including sharia, law, halal, Islamic education and Islamic management.
Books that attract attention include:
The book titled "HALAL GUIDE AND ANIMAL SLAUGHTER 19TH CENTURY AD: Study and Editing of the Book of Qunū' liman Ta'aṭṭafa by Sheikh 'Abbas Kuta Karang al-Āshī", this book published jointly by UNISSA Press and USIM Press is the result of Muhammad Mustaqim bin Mohd Zarif, Azme Matali, Mohd Anuar bin Mamat and Abdurrahman Raden Aji Haqqi. Kitab Qunū' liman Ta'aṭṭafa (QLT) written by Syeikh 'Abbas Kuta Karang is a unique work on the halal-haram guide and slaughtering in the Malay world in the 19th century AD. Despite its influence on Malay-speaking Muslims at that time, the book produced in Mecca by the famous Acehnese scholar can be considered a rarity, having never been published and only existing in manuscript form today. Therefore, this book was produced specifically to introduce and re-promote this important work in the community. In addition to editing and presenting the QLT text based on several relevant manuscripts, this book also contains a study on this book and its author that includes aspects of history and jurisprudence. The text, which is written in a l
STRATEGIC MANAGEMENT PRACTICES: THE ANALYSIS OF SERVICE-BASED MSMES IN BRUNEI DARUSSALAM", by Chin Han Wuen dan Fahmi Ibrahim aims to address the knowledge gap found in the context of strategic management and micro, small and medium enterprises (MSMEs). In particular, this research book incorporated the statistical analysis to discuss the relationship between strategic human resource management, organizational learning, competitive strategy and the organizational performance of service-based MSMEs in Brunei Darussalam. Drawing from the key statistical findings and analysis, this research book provides the necessary implications and benefits for practitioners in similar MSMEs environment as well as to provide theoretical contributions to the body of knowledge under strategic management, within the MSMEs context. The book entitled 'Strategic Management Practices: The Analysis of Service-Based MSMEs in Brunei Darussalam' is an ideal and valuable resource for undergraduate and graduate courses and for all those with an interest in business strategy, human resource and organizational studies.
Buku "PENGENALAN KEMAHIRAN ABAD 21 DALAM PENDIDIKAN ISLAM", hasil tulisan Norkhairiah Hashim, memberikan pengenalan tentang Kemahiran Abad 21 sebagai tuntutan di dalam era pendidikan masa kini. Penulis juga memberigakan kepentingan kemahiran abad 21 khususnya dalam Pendidikan Islam. Terdapat tujuh dimensi kemahiran abad 21 yang dihuraikan penulis di dalam buku ini antaranya kemahiran komunikasi, kemahiran kolaborasi, kemahiran pengaturan kendiri, kemahiran teknologi maklumat dan komunikasi, kemahiran menyelesaikan masalah dan inovasi, kemahiran konstruksi pengetahuan dan kemahiran hidup dan karier. Kepentingan kemahiran abad 21 dalam pendidikan Islam disentuh didalam penulisan ini dengan mengaitkan matlamat serta hala tuju pendidikan Islam selaras dengan kehendak falsafah pendidikan Islam. Buku ini juga mengutarakan beberapa teori daripada tokoh-tokoh Islam tentang pengajaran dan pembelajaran dan menghubungkaitkan kerelevenan teori berkenaan terhadap penerapan kemahiran abad 21 dalam pendidikan Islam. Buku ini sesuai dijadikan rujukan dan panduan para guru atau pendidik dalam bidang pendidikan Islam mahupun bukan bidang pendidikan Islam. Secara ringkasnya, buku ini juga dimuati dengan beberapa strategi, pendekatan dan kaedah yang sesuai diaplikasikan dalam pengajaran dan pembelajaran. Dalam konteks Negara Brunei Darussalam, buku pengenalan kemahiran abad 21 ini juga mengongsikan pengimplementasian kemahiran abad 21 dalam sistem pendidikan negara abad ke 21 (SPN 21) dan keselarasannya dalam menuju wawasan negara 2035 iaitu ke arah melahirkan rakyat yang berpendidikan dan berkemahiran.
Buku "PERTAUTAN SENILUKIS BRUNEI DARUSSALAM DAN MELAYU ISLAM BERAJA", hasil tulisan Baharudin Mohd Arus dan Nur Rita Abdul Ranimembincangkan kepentingan seni lukis tempatan yang berfungsi sebagai elemen pendidikan kepada masyarakat terutamanya yang berkaitan dengan mengenali serta memahami dengan mendalam akan konsep Melayu Islam Beraja (MIB) sebagai Rukun Negara Brunei Darussalam. Melalui karya seni yang dihasilkan pelukis tempatan yang terpilih di dalam buku ini berjaya mengungkayahkan bagaimana kaitan konsep Melayu Islam Beraja dicernakan melalui seni visual oleh pelukis pelukis tempatan.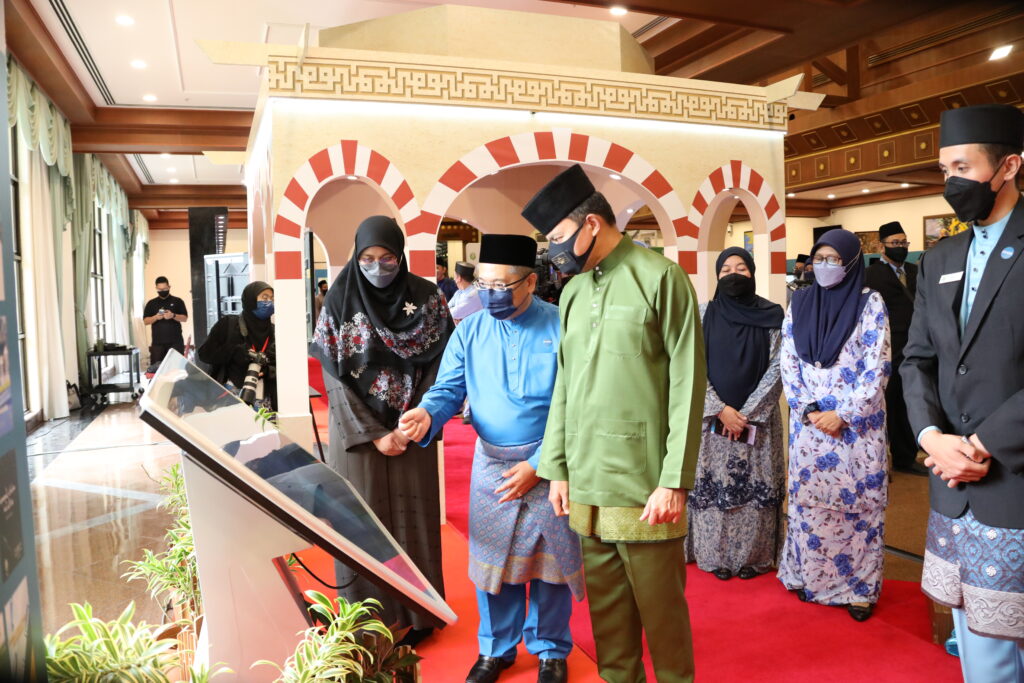 One of the requirements in the publication of a scientific journal today is to publish it in a version and format that can be easily reached by researchers in the field of the journal. Printed journals are no longer relevant in today's reality when the development of knowledge is moving rapidly. Universiti Islam Sultan Sharif Ali (UNISSA) has transformed the publication of its scholarly journals to make this university, the journal, its authors and papers visible, stand out and be able to push towards increasing the value of its impact with the launch of OJS (Open Journal Systems) in the publication of journals at UNISSA.
Source: https://unissa.edu.bn/pelancaran-buku-buku-terbaharu-dan-open-journal-system-universiti-islam-sultan-sharif-ali-1444h-2022m