The innovative disposable masks feature high filtration capabilities and anti-fog attributes to help make mouth movements visible without compromising safety.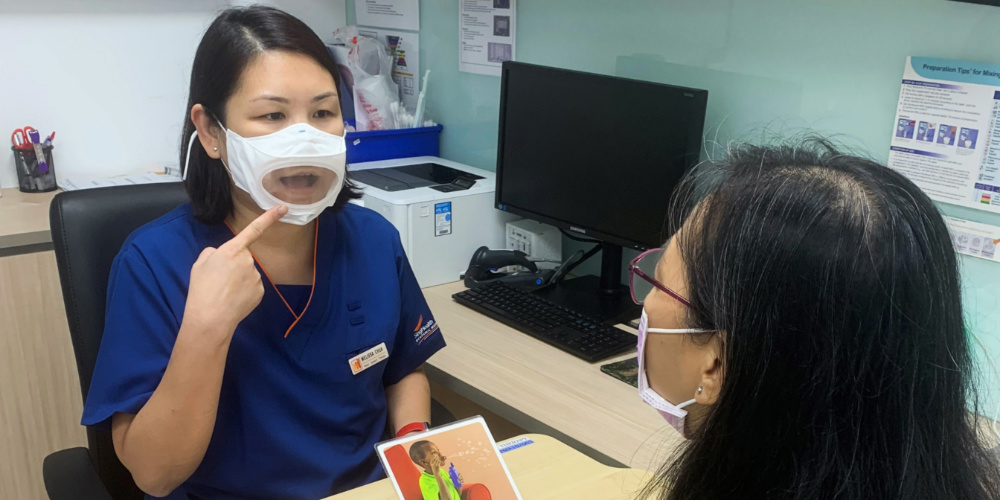 Ms. Melissa Chua, Head and Senior Principal Speech Therapist from Sengkang General Hospital, wearing the transparent medical mask (Photo credit: Sengkang General Hospital)
SINGAPORE – The Agency for Science, Technology and Research (A*STAR), Sengkang General Hospital (SKH), and local masks manufacturer Forever Family today announced the development and deployment of a medical-grade disposable face mask with a transparent window that allows patients to view the mouth movements of healthcare professionals, and vice-versa. With mask-wearing still required indoors, especially in patient-facing areas, this transparent medical mask is particularly useful for speech therapists working in hospitals, schools, and other settings to assist patients with speech, language, communication and even swallowing difficulties.
Visualisation of the speech therapist's mouth is important during therapy for children and adults as the therapists need to model mouth movements, sounds, and words. Some patients might also need to rely on exaggerated mouth movements as an additional cue to understand the therapist.
This transparent medical mask has a 3D design and an anti-fog shield to maintain visibility. It is rated ASTM Level 21 for its performance as a medical mask, while Forever Family, manufacturer of the masks, has achieved ISO 13485 certification and approval by Singapore's Health Sciences Authority (HSA) for its manufacturing processes related to the production of these masks.
The project builds on the first-generation reusable transparent face mask manufactured by Forever Family and supplied to help the deaf and hard-of-hearing community. This collaboration combines manufacturing and product development expertise from A*STAR's Singapore Institute of Manufacturing Technology (SIMTech) with Forever Family's textile expertise.
Ms Melissa Chua, Head and Senior Principal Speech Therapist from Sengkang General Hospital, helped to set up a committee of speech therapists and audiologists from eight public healthcare institutions and led the team in this collaboration with A*STAR and Forever Family. The committee provided the functional requirements for their ideal transparent mask to be used in a healthcare setting and was involved in testing the prototypes and refining the mask design. As a gesture of goodwill, Forever Family has donated 1,000 pieces of the transparent medical masks to all public healthcare institutions. These are already being used by Speech Therapists at Sengkang General Hospital. The masks will be procured within SingHealth institutions and eventually extended to hospitals in other healthcare clusters as well.
"When the safe management measures were announced during the COVID-19 pandemic, particularly the need to wear surgical masks at all times in healthcare settings, our profession realised that some of our therapy may be affected as we could no longer show our mouth movements to our patients. Though there were other workarounds using videos or pictures, we were actively sourcing for transparent masks. It was important for us to find one that meets our requirements, especially for use in a hospital setting. To have one developed and manufactured locally that meets our needs is long-awaited. This will allow us to provide quality therapy without compromising the safety of the therapists and patients." said Ms Melissa Chua, Head and Senior Principal Speech Therapist, Sengkang General Hospital.
"When people with hearing difficulty, cochlear implants, or normal hearing aids like me attend speech therapy sessions, we find it very hard to follow and understand when the speech therapist uses a normal face mask. However, when the speech therapist uses a transparent mask, we are able to lip-read and follow their diction," said Mr Kevin Siew, a speech therapy patient at Sengkang General Hospital.
"During the pandemic we have seen many innovations emerged to aid in the fight against COVID-19 and facilitate a return to normalcy. This transparent medical mask is one of those novel solutions co-innovated and co-developed by A*STAR, Forever Family and the speech therapists and audiologists from the healthcare institutions. We are confident that it will help ease speech therapists' work without compromising safety and enable patients to benefit from effective treatment outcomes," said Dr David Low, Executive Director of A*STAR's SIMTech.
"We are pleased to contribute our knowledge in textiles, working together with A*STAR and Sengkang General Hospital, to design and develop these medical-grade transparent face masks. We hope that these products will benefit many speech therapists, healthcare professionals and their patients," said Mr Andy Low, Key Account Manager, Forever Family.
KEY FEATURES OF THE TRANSPARENT MEDICAL MASKS
Developed using disposable mask material to ensure good protection needed in healthcare settings
Met ASTM Level 2 medical standard required for healthcare use in Singapore
Achieved HSA and ISO 13485 certification by the manufacturer to provide medical-grade devices
3D design to provide comfort through sufficient protrusion to allow for exaggerated mouth movements and talking
Anti-fog properties to allow for clarity of the screen when the user is talking
Ultrasonic welding method used to provide optimum bonding of the transparent window to the mask
---
1ASTM international standard for materials, products, systems, and services. There are three distinct levels of protection for ASTM-rated medical masks, and Level 2 is the accepted medical standard to be used in Singapore's healthcare settings.
2ISO 13485 certification relates to the quality management system of an organisation needed to demonstrate its ability to provide medical devices.
---
About the Agency for Science, Technology and Research (A*STAR)
The Agency for Science, Technology and Research (A*STAR) is Singapore's lead public sector R&D agency. Through open innovation, we collaborate with our partners in both the public and private sectors to benefit the economy and society. As a Science and Technology Organisation, A*STAR bridges the gap between academia and industry. Our research creates economic growth and jobs for Singapore, and enhances lives by improving societal outcomes in healthcare, urban living, and sustainability. A*STAR plays a key role in nurturing scientific talent and leaders for the wider research community and industry. A*STAR's R&D activities span biomedical sciences to physical sciences and engineering, with research entities primarily located in Biopolis and Fusionopolis. For ongoing news, visit www.a-star.edu.sg.
About Sengkang General Hospital (SKH)
Sengkang General Hospital (SKH) forms a vital part of Singapore's master plan to provide quality and accessible care to better serve the healthcare needs in North-Eastern Singapore. Offering a wide spectrum of specialist clinics and co-located with Sengkang Community Hospital, we are a part of the integrated hospital campus delivering multi-disciplinary and patient-centric care covering all major healthcare disciplines.
Reflecting our mission of achieving better health together, SKH's team of doctors, nurses, and allied health professionals practise multi-disciplinary and team-based care. Patients are treated holistically and will benefit from having a primary doctor (specialist) oversee and coordinate their care throughout their hospitalisation stay and follow-up. For patients who need longer-term rehabilitative care, they can be seamlessly transferred from the general hospital to the community hospital to receive the appropriate care during their recovery.
As part of the hospital's efforts to provide integrated care for patients, our multi-disciplinary care team works with polyclinics, general practitioners, and other healthcare providers to provide longer-term care for chronic disease management through follow-ups with patients and ensuring timely and appropriate access to specialist care for acute and complex cases.
Allowing residents in the northeast to access national specialty services nearer their home, SKH has collaborated with KK Women's and Children's Hospital, National Cancer Centre Singapore, National Dental Centre Singapore, National Heart Centre Singapore, and Singapore National Eye Centre, to set up satellite clinics within the hospital's Medical Centre. For more information, visit www.skh.com.sg.