On the 12th of April 2022, A Memorandum of Understanding (MOU) was signed between Institute of Brunei Technical Education (IBTE) and Sealestial Marine Seafarer Training Centre Sdn Bhd (SEAMASTER), Malaysia.
Signing on behalf of IBTE was Dr Zamri Sabli, IBTE CEO witnessed by Cikgu Zaitunah Kurus, Head of School of Agrotechnology and Applied Science, and on behalf or SEAMASTER was Captain Kenneth Khoo, SEAMASTER's General Manager, witnessed by Madame Anita Danker, Chief Financial Officer of SEAMASTER.
The MOU was to establish a basis of cooperation and collaboration as well as working relationship in the fields of research, education and training in the fields of maritime, ports, shipping and marine logistics of mutual interest between the IBTE and SEAMASTER.
SEAMASTER locally incorporated the idea of venturing into and servicing the ever growing and endless opportunity of the marine, ports and shipping industry in the island of Borneo and the surrounding areas of BIMP-EAGA. Their business activities cover a wide spectrum of marine related services, including but not limited to project management, management systems (ISM, ISPS, MLC, ISO 9001, HSE MS), Internal Audits, surveys, inspections and training for seafarers, shore based personnel, ports and Government agencies. It is also the founding member of the Aviation, Maritime and Oil & Gas EduHub @ Aeropod KK (A.M.O.G), currently the only EduHub in the region for all 3 industries co-located within a centralized location.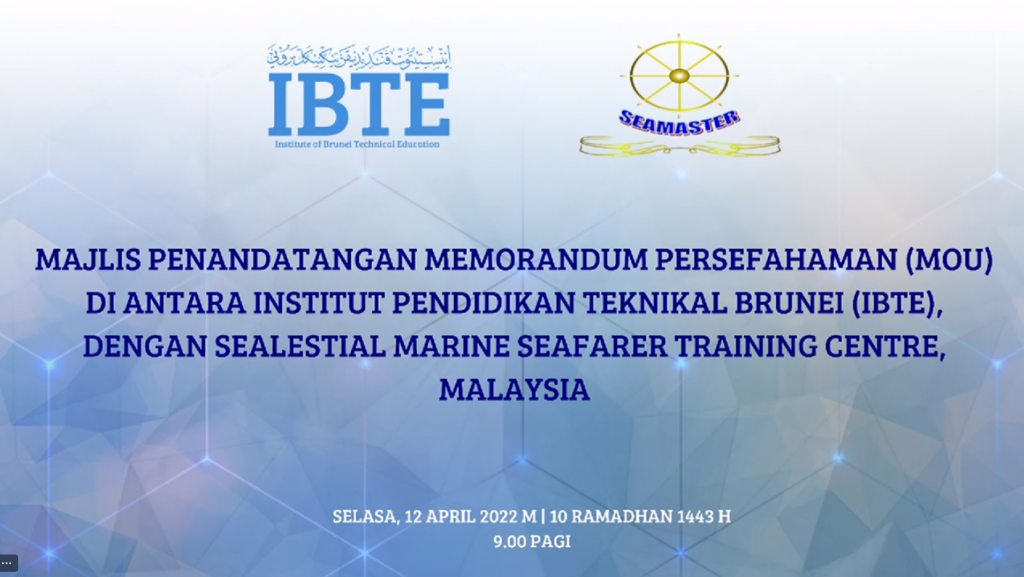 Source: https://ibte.edu.bn/news/2022/04/mou-between-ibte-and-seamaster/