SINGAPORE – Seven parties from the public and private sectors have signed a Memorandum of Understanding (MoU) today to help local businesses improve their environmental sustainability.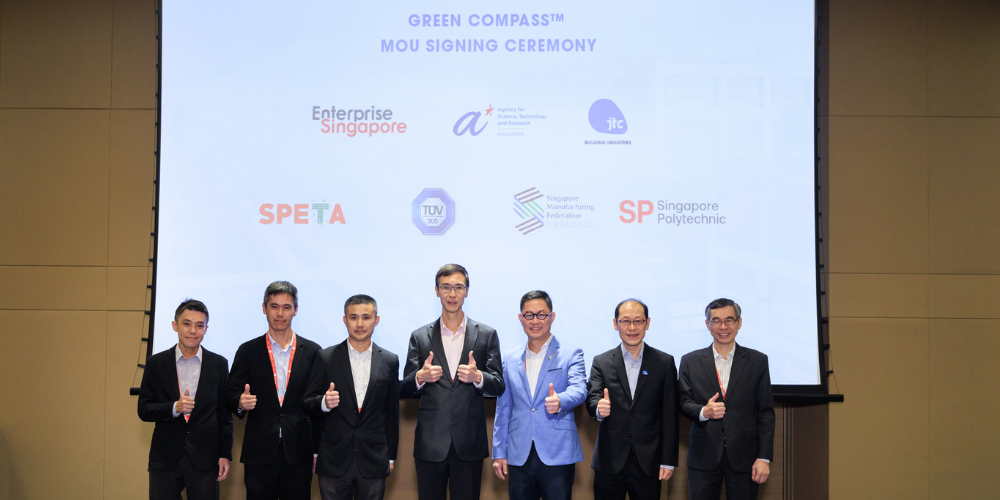 (From left to right) Wong An Wei, Deputy Executive Director, Singapore Precision Engineering and Technology Association, Soh Leng Wan, ACEO, Enterprise Singapore, Terence Tay, Vice President, Digital Service, TÜV SÜD, Lim Keng Hui, ACE, Science & Engineering Research Council, A*STAR, Lawrence Pek, Secretary-General, Singapore Manufacturing Federation, Alvin Tan, ACEO, Industry & Enterprise Cluster Group, JTC, and Soh Wai Wah, Principal & CEO, Singapore Polytechnic at the Green CompassTM MoU Signing Ceremony on 19 October 2022. Photo credit: JTC
Green CompassTM is an assessment and roadmapping tool developed by the Agency for Science, Technology and Research (A*STAR), JTC Corporation (JTC) and TÜV SÜD. It helps companies to better manage their carbon emissions, energy, water, and waste impact, as well as chart roadmaps for environmental sustainability.
Today, four other parties – Enterprise Singapore (EnterpriseSG), the Singapore Manufacturing Federation (SMF), Singapore Precision Engineering and Technology Association (SPETA), and Singapore Polytechnic (SP) – have joined A*STAR, JTC and TÜV SÜD to bring Green CompassTM to more companies in Singapore. The MoU signing took place at Industrial Transformation Asia-Pacific (ITAP) 2022.
Through the Learn-Assess-Prioritise-Plan model of Green CompassTM, companies will learn about sustainability trends and methodologies, and assess their company's environmental sustainability level. They can tap SkillsFuture Singapore funding for this. Next, they will prioritise areas with the biggest financial and strategic impact and chart transformation roadmaps based on their assessed sustainability level (refer to Annex A).
Companies, such as I-PEX Singapore and Yeo's, have reported better understanding of their states of sustainability across various areas – including product life cycles and management of energy, water, carbon emissions, and materials (more information in Annex B).
Under the MoU, A*STAR, TÜV SÜD and SP will share knowledge on environmental sustainability and Green CompassTM through training courses, and continue to develop and refine the tool, while JTC will support the further development of Green CompassTM. JTC will promote this tool to its network of industrial tenants, and work with them on moving towards environmental sustainability while maintaining business competitiveness.
EnterpriseSG, SMF, SPETA, and SP will promote Green CompassTM to their networks of local enterprises. In addition, EnterpriseSG will support the development and adoption of sustainability-related standards to help companies in their sustainability journey.
The SMF will journey alongside the local manufacturing community to craft the environmental sustainability narrative for the manufacturing community. Through the SMF-Standards Development Organisation, the SMF will also be part of the development of standards to support companies in their environmental sustainability improvement journeys.
- END-
---
About the Agency for Science, Technology and Research (A*STAR)
The Agency for Science, Technology and Research (A*STAR) is Singapore's lead public sector R&D agency. Through open innovation, we collaborate with our partners in both the public and private sectors to benefit the economy and society. As a Science and Technology Organisation, A*STAR bridges the gap between academia and industry. Our research creates economic growth and jobs for Singapore, and enhances lives by improving societal outcomes in healthcare, urban living, and sustainability. A*STAR plays a key role in nurturing scientific talent and leaders for the wider research community and industry. A*STAR's R&D activities span biomedical sciences to physical sciences and engineering, with research entities primarily located in Biopolis and Fusionopolis. For ongoing news, visit www.a-star.edu.sg.
About JTC
Since its inception in 1968, JTC has played a strategic role in ensuring Singapore stays innovative and dynamic amid global manufacturing trends. As a government agency under Singapore's Ministry of Trade and Industry, JTC is paving the way forward for Singapore's industrial landscape with clean, green and smart estate masterplans such as one-north, Seletar Aerospace Park, Jurong Innovation District, and Punggol Digital District. Our estates attract new investment and foster collaborative ecosystems that strengthen Singapore's position as an advanced manufacturing hub. We also drive innovation in the Built Environment sector by piloting new construction technologies.
For more information on JTC, visit www.jtc.gov.sg
About TÜV SÜD
Founded in 1866 as a steam boiler inspection association, the TÜV SÜD Group has evolved into a global enterprise. More than 25,000 employees work at over 1.000 locations in about 50 countries to continually improve technology, systems and expertise. They contribute significantly to making technical innovations such as Industry 4.0, autonomous driving and renewable energy safe and reliable. www.tuvsud.com/en-sg
About Enterprise Singapore
Enterprise Singapore is the government agency championing enterprise development. We work with committed companies to build capabilities, innovate and internationalise.
We also support the growth of Singapore as a hub for global trading and startups, and build trust in Singapore's products and services through quality and standards.
Visit www.enterprisesg.gov.sg for more information.
About the Singapore Manufacturing Federation (SMF)
Established since 1932, SMF represents the interest of the manufacturing community in Singapore, driving its competitiveness and sustainable growth through serving industry-specific needs. Supported by 10 industry groups and its Associated Services, the SMF enhances the competitiveness of the industry by encouraging capacity development and capability building, innovation and productivity. The SMF provides opportunities for companies to collaborate, network, and to grow and expand both locally and internationally. Current membership stands at about 5,000 members comprising SMEs, MNCs and Affiliate members. For more information, please visit www.smfederation.org.sg.
About the Singapore Precision Engineering and Technology Association (SPETA)
The Singapore Precision Engineering and Technology Association (SPETA) is the leading trade association for the Precision Engineering Industry. Our members comprise both SMEs and MNCs engaging in the manufacturing and distribution of precision engineering components, products, tools, equipment, machinery and other solutions. They participate in diverse sectors including aerospace, automotive, medical and semiconductor.
SPETA works closely with our members, industry leaders, knowledge partners and government agencies to co-create a conducive and dynamic business environment for the Precision Engineering and Technology community, enabled by digitalisation, innovation, sustainability and a vibrant workforce.
About Singapore Polytechnic
Established in 1954, Singapore Polytechnic (SP) is Singapore's first polytechnic. It has 10 schools that offer 30 full-time diploma courses and three common entry programmes for more than 12,800 students. SP adopts a proven creative teaching and learning framework and offers students a holistic, authentic and industry-relevant curriculum, innovative and vibrant learning spaces, and enriching overseas programmes.
The Polytechnic is committed to producing competent and versatile graduates who are also imbued with sound values so that they can be work-ready, life-ready and world-ready. Currently, SP has more than 223,000 graduates and among them are successful entrepreneurs, top executives in multi-national and public-listed corporations, and well-known professionals across various industries and leaders in government.
SP clinched the inaugural ASEAN People's Award in 2015 for its contributions toward the region's community-building efforts. SP is also the first polytechnic to be awarded the President's Award for the Environment in 2010 and the President's Social Service Award in 2011, as well as the President's Award for Teachers in 2017, 2018 and 2020.
For more information on Singapore Polytechnic, please visit www.sp.edu.sg.
---
ANNEX A
FOUR-STEP MODEL OF GREEN COMPASSTM: LEARN-ASSESS-PRIORITISE-PLAN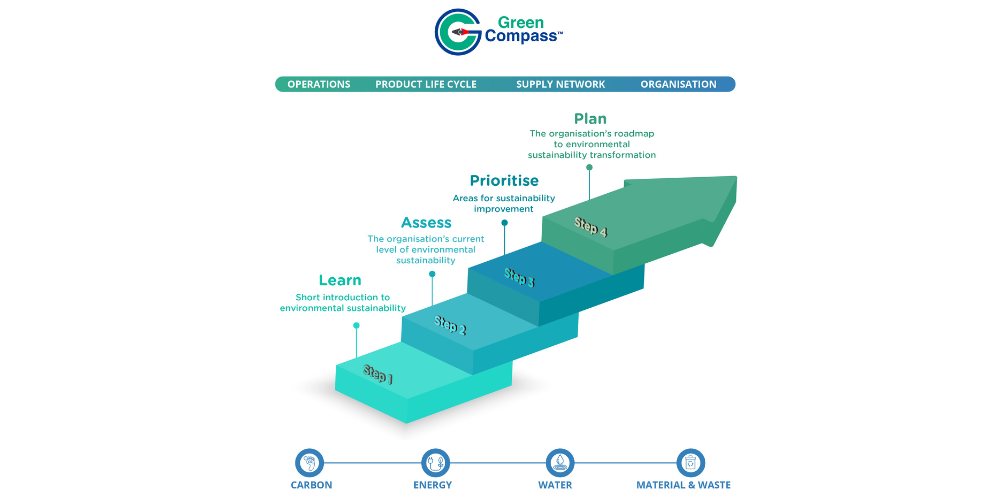 ANNEX B
COMPANIES THAT HAVE USED GREEN COMPASSTM
I-PEX Singapore
Manufacturer of electronic connectors and parts
I-PEX Singapore aims to tackle climate change as a company and contribute to a recycling-oriented society through renewable energy use, recycling, and a reduction in packaging materials.
With Green CompassTM, I-PEX Singapore has assessed current sustainability levels across various areas, such as operations, product life cycle, and supply network management, identified key follow-up actions, and built a strategic roadmap to scale up its environmental sustainability transformation.
For example, one of the improvement areas identified is in I-PEX Singapore's supply network management. Recognising that the majority of any company's environmental impact lies in its value chain, I-PEX Singapore brainstormed improvement actions, with guidance from the improvement pathways detailed in the Green CompassTM assessment results.
Since the completion of the Green CompassTM course, I-PEX Singapore has initiated the implementation of improvement actions in its supply network management, by working closely with its headquarters to refine the strategic roadmap further. Some of the actions include reviewing its current environmental policy and suppliers' code of conduct to include specific environmental sustainability requirements, and to engage with key suppliers on I-PEX Singapore's environmental sustainability commitments.
Yeo's
A leading name in the Asian drinks market
"Through JTC's introduction, we embarked on the Green CompassTM programme. Our key challenge was the lack of a data-driven structured approach to identify our sustainability objectives. During the 3-day programme, we gained better visibility of various cost structures within the company that impacts our sustainability agenda. The step-by-step consultative approach has also helped us to identify, assess, and prioritise key sustainability focus areas. We would like to recommend this programme to like-minded companies that are interested to further understand their sustainability performance and maturity level," said Colin Tan, Chief R&D Officer of YHS (Singapore) Pte Ltd.
ANNEX C
SPOKESPERSONS' QUOTES
"Through Green CompassTM, we are partnering with companies across various sectors in their transition to more environmentally sustainable and resilient business models. A*STAR looks forward to the collaboration in bringing the tool to more companies in Singapore, to help them better manage their environmental impact and chart strategic roadmaps for their transformation," said Dr Jonathan Low, Coordinating Director (Research), Singapore Institute of Manufacturing Technology (SIMTech), Agency for Science, Technology and Research (A*STAR).
"Many are keen to make their business sustainable but they are unsure how to get started. The Green CompassTM is a useful tool for SMEs to assess sustainability gaps in their plant and equipment, operations, and even supply chain processes. For example, energy may not be optimally utilised in their production process. With this knowledge, they can plug the gaps to become more resource-efficient and enjoy cost savings to boost their businesses," said Mr Tan Chee Kiat, Group Director, Engineering, JTC.
"TÜV SÜD's collaboration with A*STAR, JTC, EnterpriseSG, SMF, SPETA and SP reaffirms our commitment to the company's founding principle of protecting people and the environment with sustainable and responsible actions. Leveraging our expertise and experience working with businesses to fulfil their sustainability commitments, we aim to aid businesses in their environmental sustainability transformation journey via a systematic approach through Green CompassTM. Through collective efforts with our partners, we hope to contribute to advancing Singapore's national agenda on sustainability," said Mr Terence Tay, Vice President, Digital Service, TÜV SÜD.
"Over the past few years, we have seen more global manufacturers incorporating environmental considerations in their requirements for foreign suppliers. The Green CompassTM provides Singapore companies with the capabilities to assess their sustainability level, prioritise initiatives with the biggest impact, and develop tangible action plans to meet sustainability demands from customers. Enterprise Singapore will work closely with local SMEs to adopt the Green CompassTM and develop sustainability-related standards to support companies in their sustainability efforts," said Ms Anne Ho, Director (Advanced Manufacturing), Enterprise Singapore.
"Sustainability is critical for manufacturers as they seek to reduce cost and waste to improve operational efficiency. It is also an important thrust for the Federation to bring about the know-how for sustainability and transformation to our manufacturing community. I am therefore pleased that the SMF is an active and integral part of this collaboration to bring Green CompassTM to the companies. This is a manifestation of the SMF's commitment to helping our members and the manufacturing community take important steps in their sustainability journey. I am excited to see more companies embark on their sustainability transformation journey through the Green CompassTM and bring forth a greener and viable future," said SMF President Mr Lennon Tan.
"The push for sustainability will only accelerate and intensify, and it is important for local manufacturing companies to start building their in-house knowledge and capability to define, kick-start, and sustain their sustainability efforts. SPETA as the leading trade association for the Precision Engineering sector will work hand-in-hand with industry partners and our members in the transition towards sustainable manufacturing," said Mr Simon Lim, Executive Director, Singapore Precision Engineering and Technology Association (SPETA).
"In Singapore's transition to a low-carbon future, enterprises must be primed and positioned to play critical roles in advancing environmental sustainability. In moving the nation's sustainability agenda forward, SP's Centre for Environmental Sustainability and Energy Efficiency (ESEE) and Advanced Manufacturing Centre (AMC) have been supporting businesses to develop greener capabilities that are aligned with the Singapore Green Plan 2030. Our collaboration with A*STAR will expand our suite of solutions that we can deliver to businesses so that they can aim higher in their greener growth strategy, and accelerate their sustainability progress and impact for the environment," said Mr Soh Wai Wah, Principal and Chief Executive Officer of SP.
For more information visit: https://www.a-star.edu.sg/News/a-star-news/news/press-releases/seven-parties-commit-to-help-businesses-navigate-towards-environmental-sustainability